Are you looking for a photographer to capture your family's beach photos, Chris Marconi specializes in New Jersey family beach photos. We will capture timeless family heirlooms from Mantoloking, Sea Girt, Spring Lake, Bay Head, Lavallette, Seaside Heights, Cape May and every beach town in between, we will capture timeless family heirlooms.
Most of the families that Chris photographs either have a home at the beach or are vacationing down the Jersey Shore. It's a great way to capture your family memories at this moment and time. Typically it's a quick walk to the beach one hour before sunset, although Chris allows an hour for the beach portrait session; often, it only takes 40-45 minutes.
Multiple Generations Family Portraits
Most of our portrait sessions are of multiple generations. Kids, grandkids, and grandparents are all vacationing together and decide to have family beach photos taken. After the large group portrait is taken, we then move on to all the breakdowns that we discussed before the session. If you and your extended family are vacationing together, consider taking a Marconi Photography family portrait . It's something that you'll never regret.
Family Beach Photos Portrait Collections
Digital portrait collections, printed packages, to a little bit of both. We have a variety of portrait collections to choose from. Chris  often makes custom packages for his clients; some even include crafted leather albums.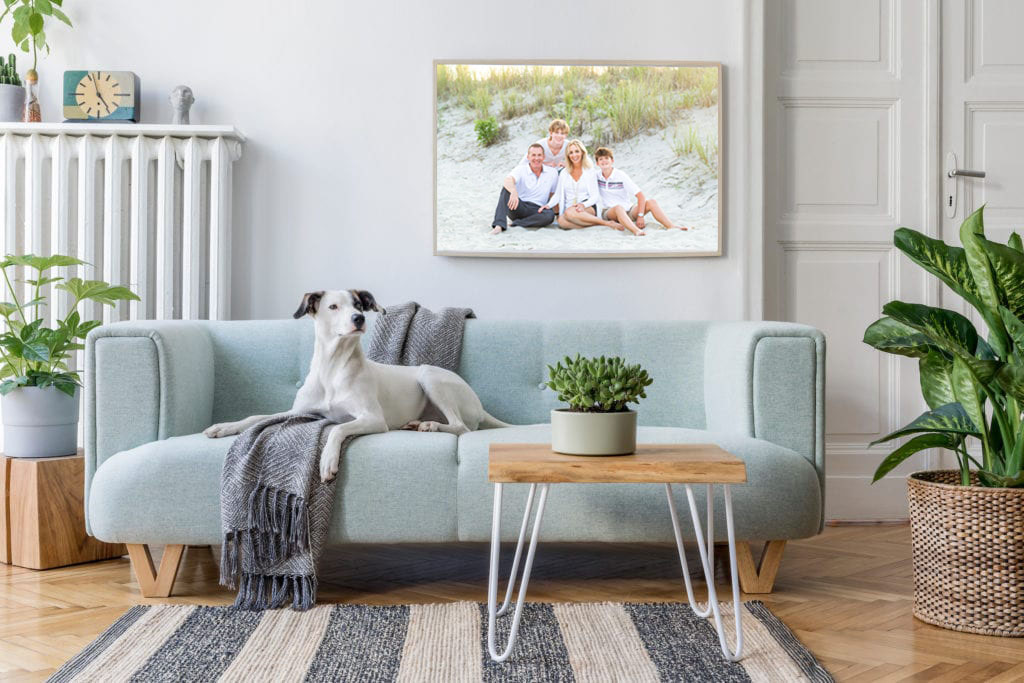 The Best Time of Day for Family Beach Photos
The reason for this is because of the lighting. One hour before sunset, or right at sunrise, is the best time of day for family portraits. As a result, a maximum of two beach portraits only can be scheduled per day. That is one of the reasons why Chris's calendar books up for the entire summer. If you know when you are going to be vacationing down the Jersey shore, it's recommended to schedule your family portrait right away. Scheduling your appointment in the beginning of the week is a smart idea, this gives us a better chance to reschedule incase of rain.
Towns Chris Photographs his Family Beach Portraits
The short answer is The Jersey Shore. However, he does go to exit 0, Cape May,  Spring Lake, Monmouth Beach, Sea Girt, Manasquan, Bay Head, Lavallette, Seaside Heights, Point Pleasant, Bradley Beach, Belmar, Avon-By-The-Sea, Asbury Park,Sea Girt are just some of the towns Chrisb captures beautiful family portraits. Each beach town has its own unique vibe. If you are vacationing or live in these towns, or the surrounding area, don't hesitate to reach out for more information.
Jersey Shore Portrait Photography
Chris has been lucky to photograph families for most of his adult life. In fact, it's the only way that he has made a living. With all the changes in technology, his family portrait business is thriving. People will always appreciate true craftsmanship. He is indeed a lucky man.
Schedule A Session For Your Family Beach Session
call 732-721-9522 today for your consultation! NO SHOES REQUIRED, BUT A RESERVATION IS!