Summer is here ! I am so glad that families  are putting their trust in local professionals to capture their beach memories. When so many people can "do their own snapshots" I am glad there are those that understand the difference.  Professional Family Vacation Beach Portraits are the bets way to make your summer memories last for generations.
5 Top reasons to hire a professional photographer for your family vacation beach photos.
1. Take away the stress! Let someone else stress over your temperamental toddler. You can relax while someone else chases her for a while! Remember this is Mom's vacation too! It is hard enough to get the kids and Dad ready for the session, much less yourself…and finally after all that work who wants to try and get smiles out their kids. We promise to take the stress out of it and let Mom enjoy her photo session and even get some great portraits with her too!
2. Kids behave better for us.  It is true, we can get expressions and real portraits, that moms, uncles or grandmothers struggle with. We know all about it…photographing your own family can be very hard. No one wants to behave for their own family and they're so easily distracted. We find that children respond well to us and listen as we are "new" to them and they take it much more serious and have fun. A young man commented last week that "It was great! Mom you didn't tell us we were going to enjoy it…we hate it when you take them."
3. No Technology or Camera Issues. No breakdowns, no worries. Forget your camera or the charger? Had a bad IPad experience? Are you worried about power for the flash or what the sand will do to your equipment? We use two cameras and have a backup. We know all about cameras, technology and power issues. We face it every day and prepare for it. Relax and let us fret over the gear.
4. Photoshop and Professional Retouching or Editing. We make you look fabulous. No, not just some app that makes everyone look plastic and perfect, we make you look real, using artistic hand retouching with our digital pen. We can remove that crazy hair from the wind, people in the background or change the seaweed stained water. We have years of experience and can perform weight loss, clothing alterations and even head swaps if needed. Let our magic pens make you look wonderful!
5. Outstanding Wall Portraits. We take more than photos of the kids, we capture family heirlooms of the entire family.  Our images can be purchased as digital files in collections or you can get a beautiful canvas printed . Either option will offer you a beautiful piece of art for your wall rather than just some snap shots only big enough for your Christmas cards.  We specialize in custom wall portraits and it is time to fill your living room with that perfect image of your family.
We are available From Sandy Hook all down the Jersey Shore all the way to Cape May, NJ.     But we are limited t0 how many families we can accommodate as there is only time for 1 or 2 families  a day!  Contact us for your consultation today!
Professional Family Vacation Beach Portraits by one of New Jersey's finest photographers! See you on the beach!
marconiphotography.com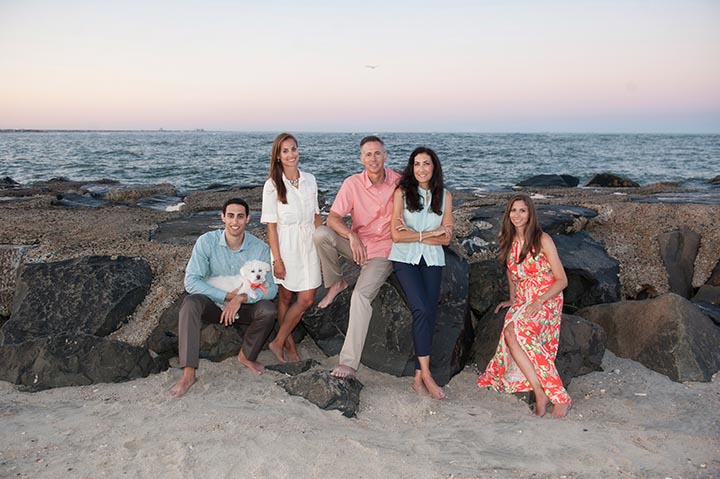 732-721-9522